Welcome to the Barricaid Payor Podcast Series

.
Barricaid is one of the most studied devices in spine

Level 1 RCT with 5 year follow up

FDA PMA Approved

8,500+ implantations

65+ peer reviewed publications






Hear from neurosurgeon Dr. Betsy Grunch
on her experience using Barricaid
in a real-world clinical setting.
Betsy Grunch MD
Dr. Grunch is board certified by the American Board of Neurological Surgery. She joined the Longstreet Clinic Neurosurgery in August 2013. She received her bachelor's degree in Biology from The University of Georgia. She went to medical school at the Medical College of Georgia in Augusta. She trained in neurological surgery at Duke University and graduated in 2013. While at Duke, she earned the Synthes Spine Fellowship from 2010-2011. Dr. Grunch is dedicated to providing the best care and latest surgical treatments for brain and spine surgery.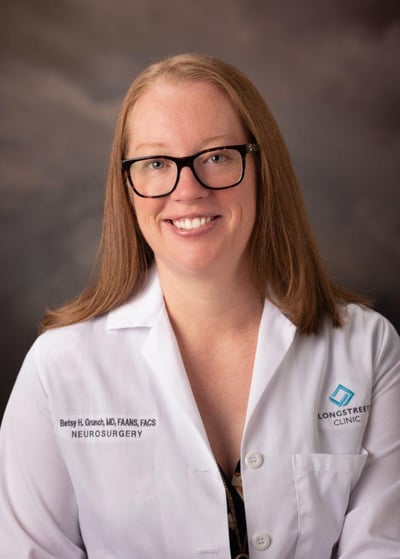 Episode 1:
Lumbar disc herniation is among the most common injuries affecting US adults, with over 3 million cases annually. This podcast features Dr. Grunch, an experienced neurosurgeon, as she shares information about a novel treatment option proven to reduce reoperations for reherniations by 81%. Saving the healthcare system unnecessary costs by making the patients first spine surgery their last.
Episode 2:
Previously, neurosurgeon Dr. Betsy Grunch discussed Barricaid, a technology which allows surgeons to reduce spinal reoperations for indicated patients who are at greatest risk of reherniation. In this podcast, Dr. Betsy Grunch shares her real-world experience using Barricaid to help prevent unnecessary surgeries and healthcare costs – and what often happens when indicated patients don't receive preventative care.
Speak with a Payor Relations Specialist to Learn More about Barricaid
Life has risks. Reherniation shouldn't be one of them.